UFC 177 received the most criticism from fans and media over any card to date. This was due to the lack of star power on the card and when Renan Barao passed out trying to cut weight all hell broke loose. There was an "I told you so" attitude by fans over the UFC building this card on the main event and yeah they were probably right to be angry.
Despite the lack of star power, UFC 177 provided some great moments not only in the cage through great fights and fantastic finishes but a couple of gems from outside the cage too. Here are those gems:
Urijah Faber left hanging after the TJ Dillashaw win –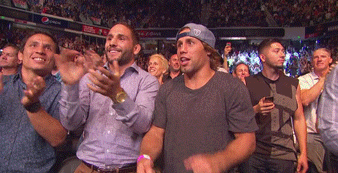 Thanks to Nuqqet9k on Reddit MMA
UFC Heavyweight Josh Barnett slapping Shayna Baszler pre-fight –


Thanks to BolderThanBarristan on Reddit MMA
Bethe Correia doing the Ace Venture hip thrust –

Thanks to Delatriangle on Reddit MMA.
Related Stories:
Hermes Franca Gets KO'd After Prison Stint
Joe Rogan Grills Renan Barao
UFC 177 Results
James McSweeney Soccer Kick KO