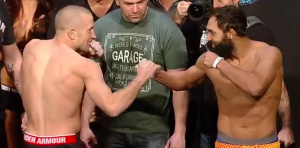 The UFC celebrates their 20th Anniversary this Saturday night, with a stacked card from the fight capital of the world. It's no accident that the UFC have chosen Georges St. Pierre's title defence against "Big Rig" Johny Hendricks as the headlining act for such an historic event; St. Pierre has been the company's most profitable star in recent memory – and this particular clash is considered, by many, as his toughest test in years. Do I agree? Read on.
Georges St. Pierre vs. Johny Hendricks – UFC Welterweight Championship
Is this Georges St. Pierre's toughest fight in recent memory? It could be. Do I think it will be? I don't.
Georges St. Pierre has been as dominant as you can possibly be as a champion – putting aside the lack of finishes in his last number of fights. St. Pierre has a rare ability, an ability that you only see in the most stellar individuals; the ability to make outstanding fighters look ordinary. It's comparable to the likes of Leonel Messi in football, Floyd Mayweather in boxing, and Michael Jordan in basketball. When these special athletes are at their best, their colleagues look ordinary; St. Pierre has this trait.
Johny Hendricks is a good fighter – a great fighter even. However, Georges St. Pierre is an incredible fighter, and I suspect that he will do what he does best – and make another fighter look average. That's not a knock on Johny Hendricks; he could be the second best welterweight in the world, and a win is certainly within the realm of possibility. He has the ability to put any welterweight asleep with one punch. But frankly, I don't think that's likely.
There are a number of reasons why I believe this. Primarily, it's the conditioning and experience in five round contests. When's the last time St. Pierre has fought a three round fight? You have to go all the way back to 2007, while Hendricks has never even stepped foot into the fourth round. Is it a given that this will be a problem for Hendricks? No. But we know that it won't be for St. Pierre.
Another reason is the striking. Apart from Hendricks power, his striking isn't ground-breaking. He's primarily a boxing-centric striker with minimal kicking techniques. St. Pierre is more dynamic on his feet. He borrows techniques from a range of disciplines.
It's in the wrestling where many people find this fight interesting. St. Pierre has been the best wrestler in the welterweight division for some time now – even though he didn't compete at an amateur level. Hendricks competed at an amateur level, and at a very high level; however, he isn't known for his wrestling inside the cage. I actually give the wrestling advantage to St. Pierre – not in a freestyle contest – but in MMA. There are countless techniques in collegiate wrestling that do not apply in a MMA setting. This is why St. Pierre can be a better MMA wrestler than some of the most highly touted amateur wrestlers.
Prediction: Georges St. Pierre via decision.
Rashad Evans vs. Chael Sonnen
This is one of the tougher fights to predict on the card — there are a few of those though. Evans has been less than impressive in his last few fights. He didn't show up at all against Antônio Rogério Nogueira, and his close decision win over Dan Henderson was overwhelmingly dull. Sonnen fared much better on his last outing against Shogun Rua, picking up a guillotine choke victory.
That being said, Sonnen is a busy guy. He's a fighter, he's analyst, he's a host, and he already has a reality show gig and a fight lined up in his future. That must be distracting – and it must drag you away from your training camp on occasion. It's for that reason that I'm picking Evans. I think that the workload that Sonnen juggles will catch up to him.
Prediction: Rashad Evans via decision.
Rory MacDonald vs. Robbie Lawler
This is a bad match up for Robbie Lawler. That being said, Rory MacDonald is a bad match up for the majority of the welterweight division. Lawler has looked phenomenal in his two fights since he returned to the promotion – knocking out Josh Koscheck and Bobby Voelker. MacDonald's last outing was perceived as somewhat of a flat performance, but he still shut down a very dangerous Jake Ellenberger.
A distinct advantage for MacDonald heading into his bout with Lawler is his surroundings. He's training with GSP in Montreal, and both fighters are focusing on avoiding their opponent's huge power. That training camp is in that mode, and it will greatly benefit both men.
Prediction: Rory MacDonald via decision.
Josh Koscheck vs. Tyron Woodley
There was a lot of hype surrounding Tyron Woodley during his Strikeforce tenure. He picked up some impressive wins before he was flattened by Nate Marquardt. His UFC debut was notable, albeit was a knockout of an aging Jay Hieron. It was his next fight when he ran into Jake Shields that demonstrated the story of his career thus far. He finds it very difficult against top competition – he will find that in Josh Koscheck.
Koscheck isn't the fighter he was a few years ago. But he is still a relevant fighter in the division – even though he's on a two fight losing streak. The scenario that I see is Woodley trying to drag Koscheck to the floor, to no avail, with Koscheck out-striking the former Strikeforce Welterweight Champion once the fight is in striking distance.
Prediction: Josh Koscheck via decision.
Tim Elliott vs. Ali Bagautinov
Tim Elliott took John Dodson to a close decision in his debut in the promotion – not a bad result, considering Dodson's status in the flyweight division. Bagautinov has a lot of power for a 125'er, but Elliot is technical is almost every area of the game. When he's not being technical, Elliot can be quite unorthodox with his strikes and techniques. We saw this in his fight with Dodson, and it really through Dodson off. I'm leaning towards Elliot to be too well-rounded.
Prediction: Tim Elliot via submission.
Preliminary Predictions:
Donald Cerrone > Evan Dunham
Ed Herman < Thales Leites Brian Ebersole < Rick Story Erik Perez > Edwin Figueroa
Jason High > Anthony Lapsley
Will Campuzano < Sergio Pettis Cody Donovan < Gian Villante