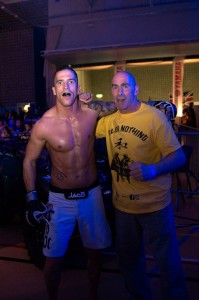 'Training has allowed me to find the real Faisel and understand who and what I am about'.
Faisel Ghazghazi admits life is not easy. Growing up on the wrong side of the Law, he finally turned to Martial Arts to keep fit and to stay out of trouble, little did he know he would enjoy the sport as much as he has done. After turning pro on 7th September 2013 Emma Bramford talked to him about his past, present and future.
EB.Tell me a bit about yourself?
FG. I am 31yrs old, I have only been training in MMA around 18 months, I wanted to simply find something that would keep me fit, introduce me to some new people and help me stay out of trouble; I decided to go pro as I wanted to have a career in something I enjoy doing; although It would be great if I could make a living so I could look after my son Diesel.
EB. You mentioned you wanted something to keep you out of trouble, can you just briefly explain what you mean by that?
FG.I started drinking alcohol at the age of 12, by 15 I was drinking heavily every day, which lead to me dabbling with substances, mainly speed and cannabis; being high helped me cope with the stress I was under and I got into a lot of trouble, with the end result which was my freedom, I ended up in prison.
EB. Do you now feel, that having that time to reflect, it has taught you a lot about yourself?
FG. I know that if I pick up another drink it wouldn't be long before my old behaviour slipped back in and I started getting into trouble again, so upon my release I knew I really wanted something to help with my confidence and I was introduced to Arthur Meek who has years of experience training fighters, he also has a unique ability to relate and gain the respect of troubled guys like myself.
I don't go around creating victims anymore, now I'm helping young guys who have similar backgrounds to myself; helping them to stay on the right track, I believe that training has allowed me to find the real Faisel and understand who and what I am about.
EB. You do voluntary work at YMCA in Bridgwater, can you tell me a bit more about this and what it means to you?
FG. The work I do with kids is a constant reminder that prison is only around the corner if I choose to drink, take drugs or return to my old offending behaviours, I work very hard to maintain a good self-esteem by helping others and I am always thinking about them rather than myself.
I want to give back to the community and the aim of the programme I run which is called BoxFit is to help guys boost their self-esteem, reduce offending behaviour, encourage team work, discipline and channel their energy and aggression in a positive way; my classes are disciplined and the guys do work but they also feel that they are 'someone' and know that they can come to me with any issue as I have their best interests at heart.
EB. Tell me about where you train out of and the club and what it means to you?
FG. I train out of All or Nothing Gym in Bridgwater, my coach is Arthur Meeks, it is what it is really, All or Nothing.
MMA showed me there is another way to live, I could never have dreamed of having the support that I have from the guys at All Or Nothing Gym they genuinely want me to do well and all put themselves out to help me get to where I need to be, if it wasn't for martial arts I would be back in prison for sure, I would not have the success that I have had and would seriously lack that discipline and drive that I now have and crave.
EB. You have a very short but impressive Amateur record, can you tell me about it?
FG. Its 4 Wins 1 NC 1 DQ , I am unbeaten in the cage, having only started my Amateur career back in August 2012 it feels great to have had six fights and to be fighting regularly but also to be unbeaten in the cage.
EB. You recently made your Pro Debut on September 7th which saw you win in 44seconds of Round 1, did this go as planned?
FG. Yes, I was straight in there, got the all-important Win on my Pro Debut, although the fight was stopped by the Doctor due to my opponent sustaining a cut above his eye, but props to my opponent as he was fighting a good fight.
EB. Your next fight happens to be in my hometown of Swindon on October 5th against Phil Wells, do you know much of your opponent?
FG. I've seen a couple of his fights on you tube but have not really watched a lot, I tend to let my team do that and I concentrate on what they tell me do and get on with the job in hand, which is fighting.
EB. How are you expecting the fight to go?
FG. I will expect the un-expected but it will be G-Man for the win.
EB. How did you get your nickname 'G-Man' and what does it stand for?
FG. After one of my fights one of my friends said to me "Good fight G-Man" and it has stuck ever since, so unfortunately no big story to the name or what it stands for!
EB. Anyone you would like to thank?
FG. Trainers Arthur Meek, Richard Weatherall, Tattoo man Scott Thomas, Photographers Christian Dalton and Peter Huish, my son Diesel for giving me the drive to keep going and team mates at All or Nothing in Bridgwater.
Faisel'G-Man'Ghazghazi is fighting on October 5th against Phil Wells at the CAGED Event Swindon M.E.C.A Tickets are £20 and VIP £40 full details www.swindontickets.co.uk
Photo (c) D J Welsh Photography