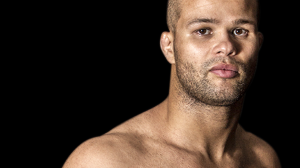 'Everyone knows that my greatest weapon is my jiu jitsu I can now show the true value of jiu jitsu ,what I learned from the Master Leo Vieira'
With his BAMMA World Middleweight Title fight against Scott Askham being tomorrow night (September 14th) I managed to catch up with Jorge 'Michelan' Bezerra at London Fight Factory for a brief chat about it.
EB: You're managed by U I Management who manage a whole host of predominantly UK based fighter's such as Che Mills, Mark Godbeer and Matt Ewin who are a little more 'known' to us here, how did UI Management and yourself first become involved?
JB: A friend of mine Mauro Chimento who is also managed by U I Management who are affiliated with Checkmat BJJ here where I train in Sao Paulo, mentioned it to me so to cut a long story short I am now managed by U I Management. It is a great pleasure and I am very happy to represent them. It is the start of a great working relationship together.
EB: Growing up in Brazil was not easy for you, yet alone trying to gain a MMA career for yourself, how does it feel for you to be fighting in Europe and gaining more recognition?
JB: Growing up in Brazil I come from a humble family and my childhood was as normal as it could be, with thanks to God as a saviour. I started Jiu jitsu and Karate at a young age then I was introduced to MMA, for which I have never looked back on, it is really good to see that I am finally making my way and name over here in Europe.
EB: You began your professional fighting career as a Welterweight fighter and went to Middleweight in April 2012; what made you decide to move up a weight division?
JB: In Brazil I have fought in almost, all of the divisions but now I have found the correct division for me that suit's me a lot better, to my natural height and build. I feel this is the right move for me in this division.
EB: You hold a Black Belt in Brazilian Jiu-Jitsu under Leo Vieira, an impressive record of 18-9, it's no wonder you're fighting on BAMMA 13 against Scott Askham for the Middleweight World Title bout, how much do you know about the unbeaten Scott Askham?
JB: Scott Askham is a very dangerious athlete, he has a very strong striking power with his knees and kicks, also some Jiu Jitsu skills but he is standing out to much here in Europe at the minute and we will make this a good fight. I'm the biggest black belt of all time in jiu jitsu, thank God for all these years, I can now show the true value of jiu jitsu I learned from the Master Leo Vieira, my record speaks for itself and it's the result of good jiu jitsu I learned.
EB: Having had 27 professional career fights to date, you have only seen the third round six times (last time was back in 2009) most of your wins have come by way of submission, 16 to be exact, is it safe to say that the ground game is second nature to you?
JB: Although predominately, yes I am a BJJ specialist, I train for every aspect in this sport but the ground game is as you would say is second nature to me.
I have trained and workout a lot to be a champion , I have my failures and limitations as do all athletes, but I 'm trying to evolve in all areas, everyone knows that the greatest weapon is my jiu jitsu, people avoid falling into my game, so I'm trying to evolve in everything else.
EB: Scott Askham complimented you on your BJJ skills in a recent interview he did and also hinted he would stand and trade with you, this said though, in his last fight with Jack Marshman he also stated he would stand and trade, but this did not happen, do you feel this could just be part of his "Game Plan"?
JB: I am not worried about his Game Plan, I will concentrate on what I have come here to do and that is to put on a great fight for you fans and of course to win the fight by whatever way I can.
EB: How do you feel now that your fight has been moved from the Prelims to the Main Card on BAMMA 13?
I am training for everything for this fight, I am very well prepared, and I will embrace the opportunity that BAMMA is giving me to be able to make the main event card and it is a great opportunity, I truly am thankful.
EB: How did you get your nickname 'Michelan' and what does it mean?
JB: When I started training with Leo he had some people who loved giving nicknames to people , and I was chubby, so he began to call me by the name 'Michelan' I looked the Toy spreading the 'Michelan' tyre brand so that nickname stuck with me, and now they call me 'Michelan' for more than 10 years.
EB: Being the "away" fighter, what impact if any does that have on you?
JB: I don't feel it has an impact on me as such, it just makes for a more interesting fight, one person always has to come out to be the not so favourite one I guess.
EB: What can BAMMA fans expect to see on Saturday 14th September?
JB: All the fans, whether they are supporting me or Askham, can expect a very busy, full night of action, I like my fights to be fast paced and ready from the off, I will give a great show come fight night.
EB: Is there anyone you would like to thank?
JB: Yes I would like to thank my many Sponsors, Paul Sutherland and Dan Richards for they're giving me the greatest strength.
5 Quick fun Questions
If you could change 1 rule in MMA what would it be?
I would have Pride rules back, because those rules do not favour anyone, the time of the pride days was so much better.
Favourite Food?
I love Japanese food, and Italian
Walk Out Music?
I 'm evangelical, and like to hear praises to Christ.
Favourite UK Fighter?
Paul Daley
If you held a dinner party and could invite 3 guests past or present, who would it be and why?
You may call me crazy, Call God the Creator of the universe and our lives , Jesus Christ, who gave his own life for love , and the Holy Spirit. I would gather all 3 and be very Blessed… Jesus Christ loves you!