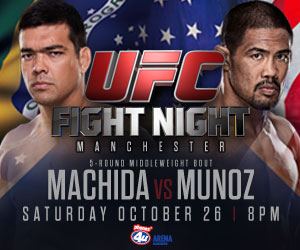 After a night of knockouts, submissions and controversy at Manchester's Phones 4 U Arena for UFC Fight Night 30: Machida v Munoz, here's what I took home with me after the event.
Lyoto Machida looks right at home in the middleweight division and depending on who holds the belt after UFC 168, we have ourselves a contender. Gone are the days when Machida looked bloated in the light-heavyweight division, as now in a weight class more suited to his frame, Machida looked lean and mean. Machida was back to his previous best against Mark Munoz, pressing the action and eventually finding a home for a left high kick that ended the fight in spectacular fashion. Machida should also be commended for not following up on Munoz with unnecessary damage after intelligently recognising his good friend and former training partner was out. The pair's previous relationship should also be taken in to account when judging this fight, as neither man took a step back, afraid to engage with a pal, both treated each other with the respect each deserves and this contest was as it should be when a situation like this occurs. Fight first, friends after.
While it was not exactly Fight of the Night material as many had predicted, the Ross Pearson and Melvin Guillard match-up did have people talking, just not for the reason fans and media alike had hoped. The bout started at a frantic pace and the crowd was beginning to come alive just as Guillard landed the illegal knee, cutting Pearson and bringing proceedings to an anti-climactic halt. Pearson was well within his rights to exploit the frustrating rule which allows a fighter to place their hand on the mat preventing any knees or kicks to head as technically they are a grounded opponent; and it is unfair to criticise Guillard for acting on instinct and not being able to see through Pearson and notice the location of his hand. For me, the breakout story of this incident was the superb refereeing of Marc Goddard. Goddard was in a perfect position to observe the action, assess the sequence, recognise the illegal strike and act swiftly to prevent any further damage to the bloodied Pearson. Marc Goddard once again showed why he is one of the premiere referees in the sport and why he is the right man to help lead the Safe MMA movement in the UK. Thankfully we have a shot at closure as a rematch between Pearson and Guillard was hastily arranged for a newly announced March event to be held in London at the O2 Arena.
Once again Jimi Manuwa looks impressive and once again Jimi Manuwa was prevented from finishing a fight due to an injury suffered by his opponent. While Manuwa did not quite have his way with Ryan Jimmo as he did Kyle Kingsbury and Cyrille Diabate, Manuwa would have been ahead on the scorecards and had begun to assert his authority until the bizarre conclusion of this contest. A win is a win, but hopefully we get to see Manuwa back in action soon enough to see him secure his first definitive finish in the Octagon.
If John Lineker decides to make weight sometime soon, then the flyweight division has a ready-made title challenger in the shape of the Brazilian knockout artist. Lineker failed to hit the flyweight weight limit of 125lbs for the second consecutive fight and three out of the last five times he has competed in the division. In a division as bereft of fresh title challengers as the flyweight ranks, you would think that any fighter on a four fight win streak with arguably the heaviest hands in the division and a swarming style to match would be nailed on for title contention. However, due to Lineker's inability to fulfil the most basic requirement of a fighter with such alarming regularity, the Brazilian simply cannot be trusted with such a tremendous opportunity. Lineker intimated post-fight that he would like to continue, or should that be begin his career at flyweight, but for him to be taken seriously and reap the rewards that his talent deserves, he simply has to make weight.
Luke Barnatt was handed a tough opponent in Andrew Craig, who must have entered the bout with great confidence having seen off Chris Leben in his previous performance. Besting Craig via submission, Barnatt looked like he could have a real future in the 185lbs division after last night's impressive showing, where he dropped his opponent in both the first and second round. However, in raising his hand in triumph prematurely after dropping Craig not once but twice, Barnatt looked foolish. I understand the need to look cool but Barnatt should have learned his lesson in the first round and looked to finish the job with strikes. Thankfully for Barnatt, Craig was still prone and Bigslow was able to sink in a rear naked choke to decide the contest and have people talking about the result rather than the theatrics.
Jessica Andrade looked downright nasty in her three round blitz of Manchester's own Rosi Sexton. Andrade beat Sexton from pillar to post for the majority of the contest and emerged as a future contender in the women's bantamweight division. While it was not to be her night, Sexton displayed a ton of heart in absorbing the punishment Andrade doled out, particularly in the second. Here's hoping we see Sexton on the London card in March, and see her secure her the UFC win her career to date deserves.
Finally, a tip of the hat to Jon Anik in the commentating booth who provided the most memorable out-of-cage moment that I have seen/heard for quite some time. As with any UFC event there were a host of stars and professional athletes from a range of sports in the audience, and UFC Manchester was no different. When the camera chose to focus on Liverpool FC and England striker Daniel Sturridge in between bouts, Jon Anik would go on to showcase his knowledge of the beautiful game and one of the rising stars of English football with aplomb in announcing the footballer's presence, "and there is David Sturbridge… D-D-Daniel Sturridge." Childish? Maybe. Funny? Definitely.