"Notorious" Nick Newell (11-0 MMA)has done what many aspiring young martial artists have done and that is to hold an undefeated record. The difference is, he has done this with only one arm.
Nick was born with only a right arm and a left arm which stopped just past the elbow due to a condition (congenital amputation). Instead of just existing as a disabled human being Nick set out to show everyone that life doesn't stop due to disability. He got into wrestling at his high school, Jonathan Law in Milford but early on he was close to giving it up because it caused him a lot of pain. His inability to quit and also some motherly influence made him return to the mats and throughout school he won a total of 153 matches. Then to top that he scored All-State honours as a Senior and at Western New England College he captained the wrestling team. Whilst wrestling was keeping him busy he also picked up a degree in communication. Not bad for a dude with one arm.
It was during his time at college that he began watching The Ultimate Fighter and that urged him on to start learning the sport of MMA. Nick joined up with Lightweight fighter Andrew Calandrelli at the Ultimate MMA Training Centre in North Haven and began his voyage into MMA. In his amateur career Newell went 2-1 and found the hardest part actually getting opponents to face him. So many turned him down and others failed to show up at weigh ins. But like Newell had done throughout his whole life he never gave up and just kept pushing forward.
He eventually made his professional debut on 20th June 2009 at CFX 3 and won via TKO in the first round. He then had a few more bouts in and around the Massachusetts area racking up five straight wins all by stoppage and all in the first round. His burst of victories didn't go unnoticed on the regional scene and in late 2011 Nick signed a deal with Shark Fights and Xtreme Fighting Championships. He picked up an injury ahead of his Shark Fights debut and had his first fight for XFC at the promotions 15th show, which coincidentally was a tribute show for Nick's friend Abi Mestre who unfortunately passed away following a motorcycle accident. It was his victory at the show (via heel hook in 71 seconds) which really helped to spread his name across the world. Videos of the fight racked up about 4.5m views.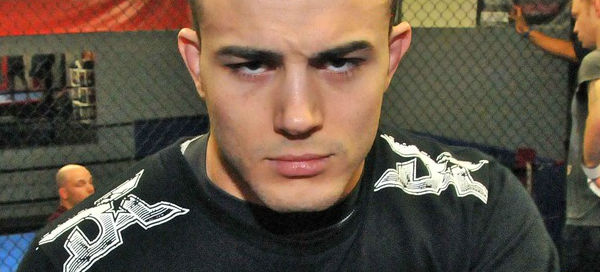 The next fight at XFC 17 was a career first for Newell as it was the first fight which went the full 15 minutes. It was also arguably his toughest test to date but he was able to overcome this and pick up a majority decision win over Chris Coggins. In his next fight Newell scored a KO win and with three wins for XFC on the bounce Newell landed himself a shot at the vacant Lightweight Title at XFC 21 in the headline fight. His opponent was Eric Reynolds who was a former Bellator fighter and like Newell had racked up three wins for XFC. No nerves appeared to be there come fight night for Newell as he was able to put away Reynolds inside one round winning the title by rear naked choke.
Following his title victory Newell had a raft of media interviews and the focus which came out of most of them was his will to fight the best guys around. As these things go there was a whole lot of people claiming that Newell only wanted to fight ex-UFC fighters and there was a subsequent fallout with XFC from this. Newell was stripped of the belt due to his contract expiring but it was reported that he had turned down a fight with Scott Holtzman. It appeared that XFC had tried to tie Newell down to a contract that he didn't want to pursue and by turning it down resulted in the promotion kicking up a stink and circulating rumours.
Eager to put the bad stuff behind him on 28th May 2013 Newell signed with World Series of Fighting and it was quickly announced that he would make his promotional debut at the WSOF 4 in August 2013. And what better way to start for a new promotion than gaining another first round stoppage via guillotine choke. Newell was quickly added to the WSOF 7 show which took place on 7th December against Sabah Fadai on the main card of the show. You won't be surprised to know that he scored another first round victory again by guillotine choke.
Nick has dealt with disability his whole life and as a result has learned how to adapt to anything put in front of him. He is constantly telling the media that he is not ashamed of the way that he is and that he has nothing to hide. One thing is for certain is that in the cage there is nowhere to hide, yet Newell seems to have found a home once the cage door closes. Like all up and coming mixed martial artists Newell aspires to be at the top. But he isn't in any rush to get there and is just letting things play out as they are. But at 11-0 with 10 wins inside the first round you can bet your bottom dollar that if he continues the way he has that he will get a call from the big promotions sooner rather than later.