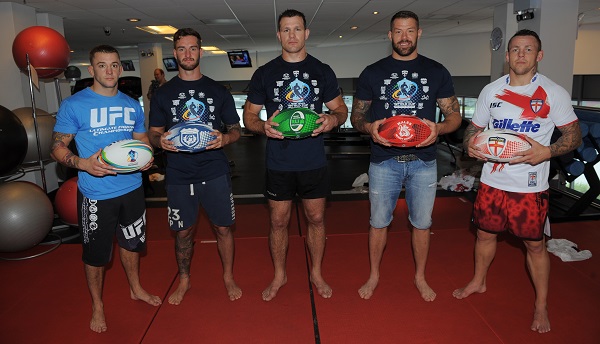 Three potential stars of Rugby League World Cup 2013 were put through their paces by two big names from the Ultimate Fighting Championship (UFC) at Virgin Active in Salford Quays this week.
Ross Pearson and Mike Wilkinson visited Manchester ahead of their upcoming bouts at UFC Manchester
2013, which takes place at the Phones4U Arena on 26th October, to train with the international rugby league players.
Scotland full-back Brett Carter, Wales forward Jordan James and Ireland forward Stuart Fielden joined Pearson and Wilkinson for a joint training session, who lead the three players in an intense UFC warm-up session.
Wales and Salford star Jordan James was left impressed by the levels of intensity demonstrated by UFC fighters.  He said: "You can see what these guys put themselves through and they are elite athletes
just like us. "They're small guys but they know how to use their weight. They're fast too and they'd probably run rings around me. I definitely think the two sports can learn a lot from each other."
UFC returns to Manchester for the first time in three years in October. Tickets go on general
sale on Monday 19 August at 10am for the event, which will be headlined by Lancashire UFC star Michael Bisping, who takes on US fighter Mark Munoz.
UK fighter Ross Pearson will compete in the co-main event at UFC Manchester 2013 and he lead the day's training session.  Pearson said:  "Before the session, I knew that some Rugby League clubs used MMA into their team training, but it was interesting to hear how much wrestling and conditioning is
involved.
"Brett, Jordan and Stuart were all pretty impressive, they picked up what we were showing them quickly, and it was good to show them just how tiring a five-minute round can be in UFC.
"Mike and I really enjoyed today's session and it felt great being in Manchester and knowing that I'll be
here in a couple of months to co-headline UFC Manchester and fight in front of British fans."
Workington and Scotland star Carter admits he found the going tough. He said: "The fighters dominate on the floor and get their head in tight, and I can relate to that as a Rugby League player.  Ross showed me a few techniques about slowing your opponent down, and I think I might try a few of them out in future matches."
James, Carter and Fielden then hosted a short Rugby League skills session and demonstrated the techniques used to affect a tackle in a match situation.
UFC Manchester 2013 takes place at the Phones4U Arena on 26 October.  Tickets are available via www.phones4uarena.co.uk or www.ticketmaster.com.
The Rugby League World Cup 2013 Final takes place at Old Trafford on November 30. To make sure you will BE THERE buy now at www.rlwc2013.com/tickets or call the 24-hour Ticket Hotline on 0844 847 2013.