If you scour through the comments under the varies facebook posts, forums and website articles regarding TJ Dillashaw officially leaving Team Alpha Male one thing keeps popping up: Mystic Mac was right again.
A couple of weeks ago on The Ultimate Fighter (which was filmed months ago) Conor McGregor explained to Urijah Faber about his personal feelings about then teammate TJ Dillashaw.
"I think you should fight him now," said McGregor while pointing out a picture of TJ in the gym. "You brought him out of college. You said you brought him up and then Duane came in and took him from you and now he is winning the world championship. You should man up now and get that fight I feel."
Then McGregor addressed the Team Alpha Male coaching staff.
"He went running from you guys. Urijah took him out of school, built him up, Duane comes in and takes over, and takes the champion."
After news broke yesterday of Dillashaw's departure McGregor took to twitter and posted a few humorous tweets regarding the situation.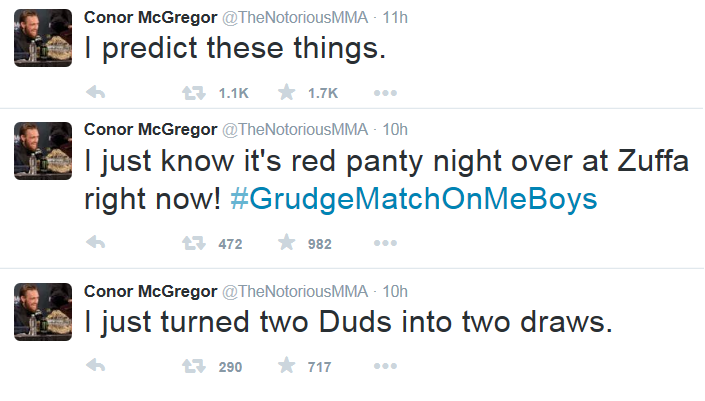 McGregor is referring to the fact that Faber and Dillashaw have avoided fighting each other in the past to the extent that Faber moved up to face Frankie Edgar at 145lb in his last fight. Now with that barrier removed between the two and with McGregor smoking the flames it has the potential to be just a massive fight for the UFC. Everybody loves a grudge match.
Related Articles:
TJ Dillashaw leaves Team Alpha Male
Joseph Duffy says he'd beat Conor McGregor again
TJ Dillashaw reveals new team are paying him to train there