This is a story aimed at our Irish contingent of readers. Mattress Mick is local business man in Dublin and he sells, yes you guessed it, mattresses.
He is an old-school marketing genius of sorts and his many hilarious campaigns have gained him a cult following in his homeland. Stephen Fry once stated that he would love to meet the Irish salesman.
Take the following viral video, cringe-worthy yet spectacularly brilliant! A fine example of Mattress Mick's style.

Now he has set his attention on 'The Notorious' Conor McGregor, arguably the most popular figure in Irish sport today, a fighter known for putting people to sleep. But Mattress Mick has a problem with this as he feels he is better at putting people to sleep….with his mattresses.
He posted the following image on his social media channels.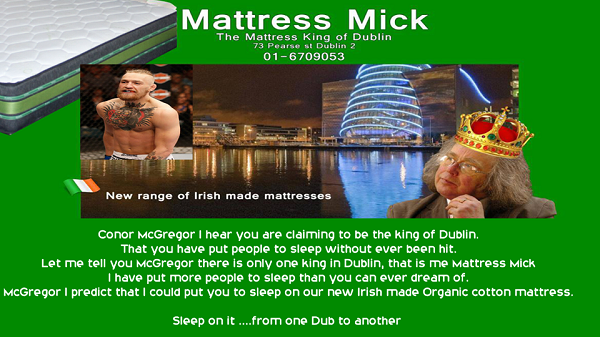 Related Articles & Videos:
Conor McGregor reads out abusive tweets
McGregor snatches the belt from Aldo on stage
McGregor and Dana White fight each other on EA Sports UFC
McGregor vs. Jon Jones at Rock'em Sock'em Robots
Prince Naseem talks Conor McGregor