UFC returns to Ohio on May 10th with the 40th edition of their Fight Night series, and it now has its main event. Matt Brown will hope to continue his forward momentum when he locks horns with Brazilian stand-out Erik Silva.
UFC officials confirmed the bout today following a report on FOXSports.com.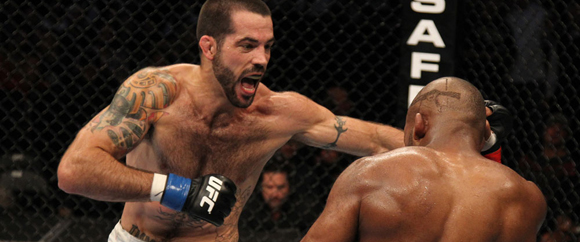 Brown, who is ranked No. 7 in the UFC's official rankings, is undefeated in his last six fights – with only one of those wins coming by way of decision. Hailing from Xenia, Ohio, his return to the cage will mark his first fight in his home state since defeating Pete Sell in 2009.
Brazil's Erik Silva will be standing across from him. Silva is coming off an impressive victory over Takenori Sato finishing him in the first round by strikes. The victory landed Silva into the UFC record books; he is now the first fighter to have three opponents fail to land a single strike.
The updated UFC Fight Night 40 now includes:
• Matt Brown vs. Erick Silva
• Daron Cruickshank vs. Erik Koch
• Lorenz Larkin vs. Constantinos Philippou
• Justin Salas vs. Ben Wall
• Ed Herman vs. Rafael Natal
• Soa Palelei vs. Ruan Potts
• Manny Gamburyan vs. Nik Lentz
• Kyoji Horiguchi vs. Darrell Montague
• Chris Cariaso vs. Louis Smolka
• Yan Cabral vs. Alexander Yakovlev
• Johnny Eduardo vs. Eddie Wineland