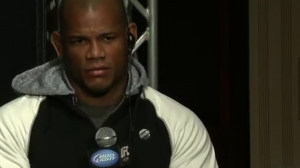 "Although I'm currently at Welterweight Bisping is NOT out of the question"
In the run up to Hector Lombard's return to the Octagon where he meets the heavy hitting Nate Marquardt on October 19th at UFC 166 in Houston, Texas WHOA! TV's Lead Reporter Emma Bramford spoke with him in this exclusive interview.
EB: Your move down to Welterweight, how did this come about? Was it you who suggested it or did Joe Silva speak with you about this?
HL: Joe Silva wanted me to fight at welterweight, it was a decision for both parties.
EB: Do you feel it came out of the blue?
HL: It came out of the blue for me, not for him, they run the business, you got to do what the boss wants you to do.
EB: What are your personal thoughts on being, I guess, kind of 'told' to move down to Welterweight, when you yourself are happy at Middleweight?
HL: It was a long decision to make, it wasn't made overnight, I thought long and hard about it. But now I am making the move it is going well.
EB: What do you think the logic is behind the move as your only other two losses prior to the UFC came when you were at Welterweight?
HL: That for me is hard to answer as they are the bosses and they say to me what to do.
EB: Are you feeling any pressure to impress Dana White, considering how vocal he has been about your performances since being with the UFC?
HL: There is always a pressure no matter what where you are going to be fighting, if you don't perform there going to cut you no matter what weight you are fighting at, it's part of the game, we are here to perform and we are here to entertain the fans, If you don't do that, the fans don't want to see you anymore, it goes with part of the territory.
EB: Are you finding that you have to drop muscle mass for the new weight division or is it just a change in diet or both?
HL: I have to drop muscle mass, remember I used to be all muscle before, I didn't have any fat, I've learned that when you change your diet, your muscles begin eating up anyway regardless. I used to eat a lot of protein before, a lot of steak and stuff like that which will build your muscles, now I don't eat steak or any red meat, so my muscles can stay smaller.
EB: I read that you maybe enlisting the help of Mike Dolce, is this true?
HL: I would of liked to have worked with Mike, but he is a very busy person so that has not happened, at the moment I am just gaining advice from my Team Mates and also Freshmealplan.com for helping me a lot with my healthy eating.
EB: Usually it is you that is doing the 'calling out' for your fights, how did you feel when Nate Marquardt 'called' you out?
HL: To be honest I was pretty happy with that, I have always wanted to fight Nate all my life, I'm glad that he actually reached out to me and called me out. I wish that Michael Bisping and the rest of the other fighters would do the same thing it would be a lot easier.
EB: There's a bit of history with you and Nate Marquardt, you were due to fight on another promotion a few years ago, what was the story behind this?
HL: We were supposed to fight 2 years ago, I was calling him a 'cheat' and stuff like that, and he got upset, it did not happen, and I was very disappointed at the time, but 2 years on here we are!
EB: Are you worried that you will lose any of your explosive power, quickness or cardio going down to Welterweight?
HL: No my cardio will increase, usually when people lose weight you don't have to carry an initial 20lbs that you had to carry before, I already feel I am a lot faster and a lot quicker and have a lot more strength, he (Nate) thinks that I am weak, that is why he has just challenged me, but I will prove him wrong.
EB: What can we expect from the new you, in the Welterweight division?
HL: I have to go back to my old days, just go back and rush in, knock people out, be the old Hector, they know I have the knock out power so there running away from me, its straight in and try to be crazy. It won't be a technical fight, that won't happen, they will run away, try to score points, and take the fight by decision, I don't want to take it to the Judges, Judges don't like me, probably because of the way I look
EB:Now that you're in the Welterweight division are you disappointed that you won't get to face Michael Bisping at all; as you were scheduled to meet him on your first outing for UFC for which Tim Boetsch replaced and you did later call out Bisping after your fight with Okami?
HL: Well look what has just happened, I was supposed to fight Nate Marquardt 2 years ago and were fighting in the UFC, anything can happen in the future and I'm sure that if its meant to happen, me and him will sort out all the bad things he has been saying, disappointed No, it will happen one day hopefully.
EB: On paper you and Nate are very similar, you both have fought Phalares and Okami; how do you see this fight for you being played out?
HL: Firstly my stand up is better, I believe I am a better fighter than him, but I have to prove it, come October 19th you will get to see my knock out power.
EB: Anyone you would like to thank?
HL: American Top Team, www.freshmealplan.com for helping me with my diet, my fans for keeping the faith and keeping me strong and The Lord Jesus Christ.
WHOA!TV FAN QUESTIONS
As a fighter what would your normal walk around weight be?
2yrs ago I would walk around at about 205lbs but after my last fight I was walking around at 225lb!
During your training camp what weight would you get down too before your final weight cut?
Around 20lbs.
How much Kgs of water weight do you cut when in training for a fight?
Each fight is different my last fight was difficult and was 15lbs, so I won't be doing that again!
If you were to have a dinner party which 3 guests, past or present would you invite and why?
My Family, they are everything to me.