It has come out that UFC Hall of Famer Ken Shamrock will enter the world of bare-knuckle boxing this year. 'The Worlds Most Dangerous Man' will take on James Quinn McDonagh, who featured in the documentary 'Knuckle', in the bout scheduled for April.
Here is a statement released via Shamrock's website:
"Shamrock is in great health and feels invigorated by this opportunity to continue to compete and to continue giving back to his fans. Shamrock is going back to his roots as a fighter. Knowing his body well, Shamrock knows that his decision to re-enter the ring for the love of this sport is a sound decision," it reads. "Shamrock adamantly believes that age should never be a restriction to any athlete. People can do amazing feats past their prime, if it's a priority to them.
"Shamrock knows that bare-knuckle boxing is a sport with great potential to grow well beyond where the sport is today. His involvement in this sport is to show support and help its success."
The bare-knuckle champion released his own statement via his facebook page: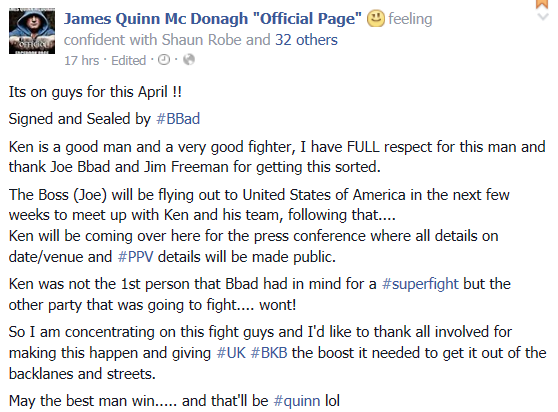 Alan's Angle: I simply have no words only that I ashamed to admit that I would pay to see this spectacle/fight.