We all remember that fight last year, right? It went the distance and was such a close battle that provided back and forth action. Gustafsson pushed Jon Jones farther than anyone ever did inside the Octagon. The win went to Jones but many believed Gustafsson deserved it more.
And then in the days after the picture below emerged . The two fighters who beat the hell out of each other for 25minutes a few hours beforehand are now side by side in the hospital showing great sportsmanship towards one another.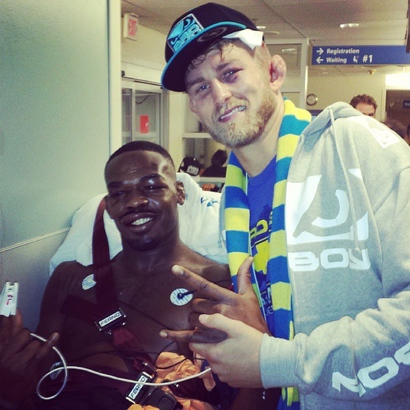 Fast forward a few months later and it seems that mutual respect has faded. Alexander Gustafsson is hell bent on facing Jones again and getting another crack at the title that he believes should be wrapped around his waste at present time. Jon Jones however is in the frame of mind that he won the title without any reservations and doesn't understand why the Swede is taking the approach that he currently is in seeking a rematch. That approach is: that he won that fight, not Jones, and that he deserves a title shot (and maybe an added "I'll beat Jones no question about it" thrown in here and there in interviews).
"I respected him a lot more before we fought," Jones told Fox Sports. "I'll tell you what, he has so much arrogance for someone who didn't win."
"I find it funny, because Gustafsson lost the fight fair and square," Jones added. "I will admit he won Round 1 and Round 3, but that's it. I won the fight. I've never heard someone chirp so much who lost. I could see if I poked him in the eye and the fight had to be stopped or I caught him with a big punch while he was winning and it was a fluke or something. But it was nothing like that."
"He needs to close his mouth and go back to the drawing board and humbly come back for a second chance."
Alan's Angle: It is safe to say they are not in the friendly zone. I believe that Jones is mistaking "arrogance" for determination and self-belief on Gustafsson's part. Having spoken to Gustafsson a number of times since the Jones fight it is evident what his focus and mindset is. When broaching the topic of Jon Jones you can see the attitude change in Gus and it is almost intimidating. Jon Jones got awarded the victory and is the champ, it was a very close fight, closer than Jones would like to admit. These comments will set up a rematch perfectly but first the champ has to face a dangerous Glover Teixeira first.