Tomorrow night three Irish fighters compete at UFC Glasgow: Joseph Duffy, Paddy Holohan & Paul Redmond. This is the promotions first visit to the 'Land of the Brave' and it promises to be a similar atmosphere as the Dublin show held last July.
Last week was particularly a massive week for amateur and pro Irish MMA in Vegas in various promotions and events but the main one was McGregor becoming interim UFC featherweight champ and Irish MMA representatives going 2-2 overall on the UFC 189 card. But how will the guys get on tomorrow night?
Joseph Duffy (13-1) vs. Ivan Jorge (26-4)
Duffy has evolved greatly over the years starting out a dangerous submission artist but now has the complete package and is only getting better training under Firas Zahabi and the rest of the coaches at the Tristar Gym in Canada which is home to GSP and Rory MacDonald.
Jorge is a veteran of the game. The 34-year-old made his debut in 2001 and became Jungle Fights champ before signing with the UFC in 2013, where he has since gone 2-1. Very much a submission fighter, he tends to out-grapple his opponents en route to a decision or getting a submission.
Duffy has the right tools to beat Jorge, he possesses a very solid ground game that could nullify anything the Brazilian tries. The Donegal native also has fantastic footwork and an arsenal of strikes and he could simply pick Jorge apart on the feet.
Result: Duffy to beat Jorge via decision.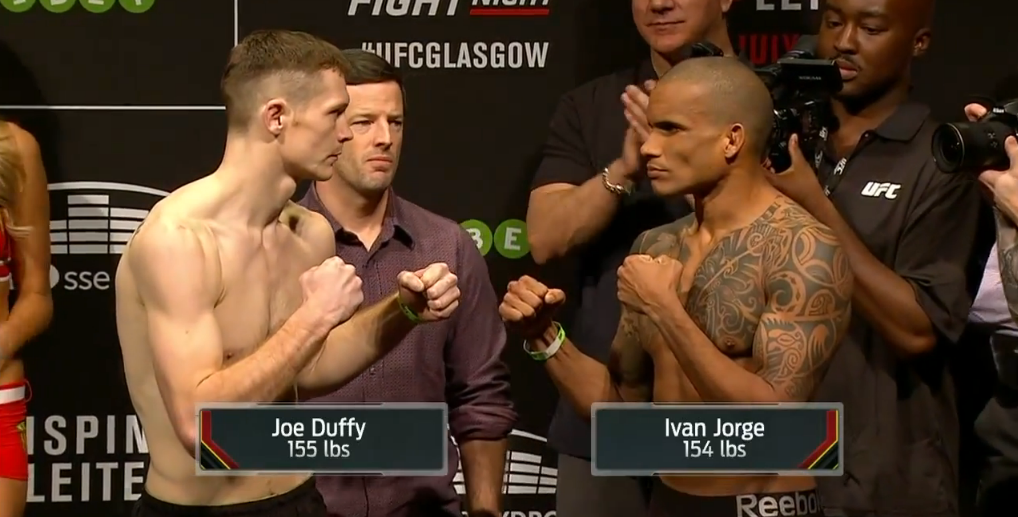 Paddy Holohan (11-1-1) vs. Vaughan Lee (14-10-1)
Holohan has everything needed to be champ at flyweight. He has the speed, the submission game, the striking and has also a size advantage over most. The more he fights in the UFC the more experience he will get and will only grow as a fighter and especially at flyweight, a division he just started in last year.
Lee is another veteran of the game. Been going since 2003 and fought in an array of promotions around the UK before signing with the UFC in 2011. The 32-year-old has a record of 3-4 in the UFC alternating wins and losses since joining up with the promotion. He has some good wins and fought some tough fighters in the UFC including TJ Dillashaw.
This will be a very tough fight for Holohan as Lee has that experience against top guys. I think Holohan's ground game could be too much for Lee, who has been caught by submissions in the past. Lee is also trying out flyweight for the first time which could have an affect on him come fight week.
Result: Holohan to beat Lee via submission (RNC).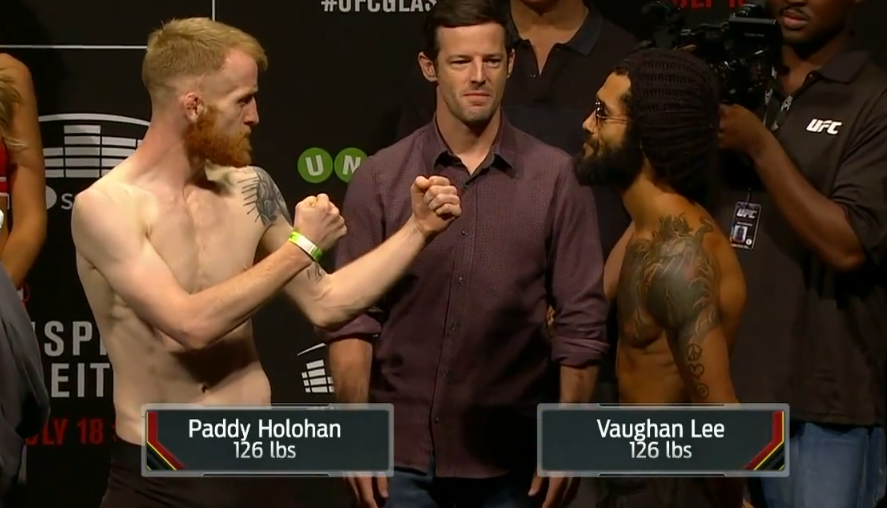 Paul Redmond (10-5) vs. Robert Whiteford (11-2)
I consider this Redmond's proper debut. His first fight in the UFC came in January where he was called upon on very short notice, had a lot of weight to cut and was against Mirsad Bektic who has proven himself as stud so far in the UFC. Before signing with the promotion Redmond went on an impressive 7-1 run which included three toe hold submissions.
Whiteford had the pleasure as being the first Scottish fighter in the UFC and has went 1-1 so far in the promotion. He himself also made his UFC debut as a late notice replacement and losing to Jimy Hettes. In his following fight he beat Daniel Pineda, a veteran of over thirty fights.
There are a few things to consider in this fight: Redmond has a full camp, Whiteford hasn't competed in over a year, the Scottish support for Whiteford, and the pressure of possibly going 0-2 for Redmond. Overall I think Whiteford will edge this in a very close fight.
Result: Whiteford to beat Redmond via decision.