Scott Askham is the most recent Brit addition to the ever growing UFC roster. The undefeated Middleweight fighter has gone 12-0 on the domestic scene and has finally reached his dreams by getting the call to join the biggest MMA promotion in the world. A product of the Ludus Magnus fight team, Askham has been on a tear through the UK Middleweight division since turning professional in October 2010.
His first seven fights where all finished in the first round and that earned him a call up to Europe's biggest promotion, Cage Warriors. He was matched against UK veteran Denniston Sutherland and scored a unanimous decision win in what was his biggest fight. The noise continued to grow as did his support and Askham then made his BAMMA debut at BAMMA 12 defeating current BAMMA British Middleweight Champion Harry McLeman. Following the win Askham fought Jack Marshman at UCFC and he continued his winning ways picking up another unanimous decision victory. His next fight would see him get a shot at the vacant BAMMA World Middleweight Championship against Jorge Luis Bezerra. Askham true to his word picked apart his opponent and won the title. Following being crowned champ Askham was eager to defend the belt against the best that the promotion had for him and in doing so created some bad blood between himself and former Light Heavyweight Fighter Max Nunes. Nunes had a lot of hype behind him early on in his career before being beaten by Jason Jones at BAMMA 13. The loss to Jones resulted in Nunes dropping to 185lbs and getting himself a title shot against Askham at BAMMA Fight Night. Nunes was arguably the toughest test of his career but Askham maintained his confidence in his abilities en route to stopping Nunes in the third round of their title fight.
It seems that the dominant fashion in which he was able to finish Nunes along with his perfect 12-0 professional record earned Askham the call and now it's time to start considering who the UFC may match him up with in his debut. So without further wait here are the three fights which I would love to see Askham take in his promotional debut;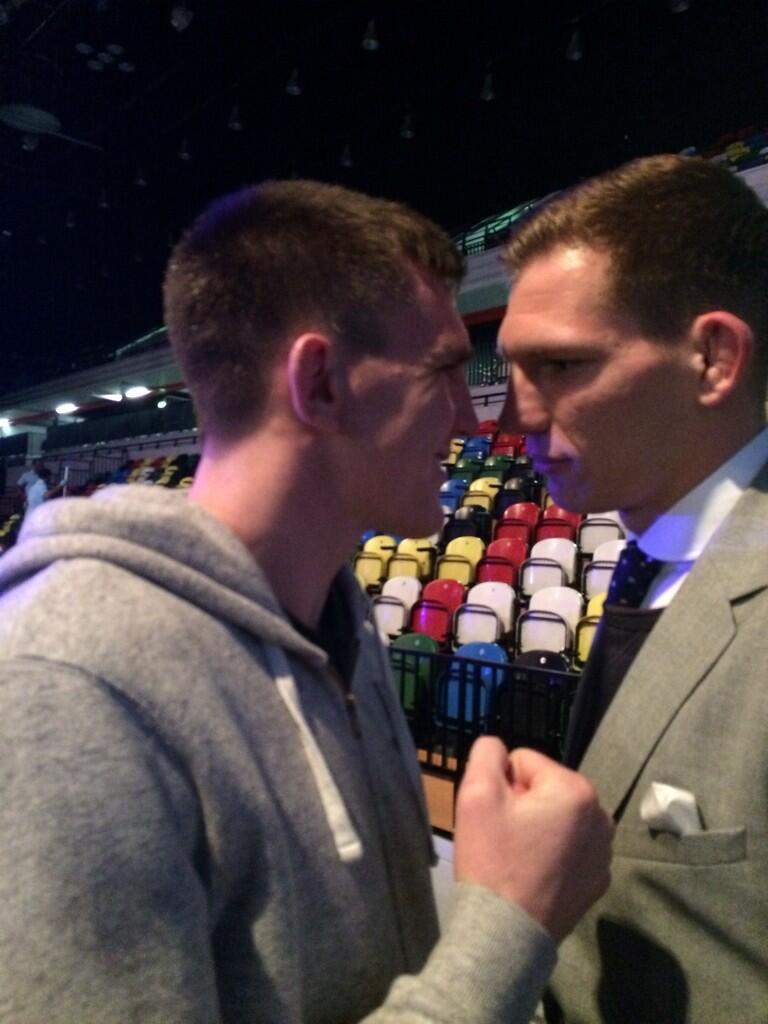 Luke "The Bigslow" Barnatt (8-1 MMA 2-1 UFC) – This is the fight which most UK fans would love to see and I certainly am one of those who would love to see these two fight. My only issue with this potential fight is that it would ultimately result in a loss for one of them. In such a competitive environment as the UFC I hate to see any UK fighter suffer a loss. But on paper this fight has it all. Barnatt didn't manage to give us the performance he was planning in his last fight against Sean Strickland and I think the loss to Strickland will only fuel "The Bigslow" in his next fight. Barnatt would have a height advantage in this one but Askham is 6 foot 3 so wouldn't be as significant as it has been against his last few opponents. Not sure how I would score this fight as both fighters have had experience at a high level and while Barnatt has fought three times for the promotion, Askham has fought for BAMMA, OMMAC and Cage Warriors. Both fighters have shown their ability to finish fights aswell with Barnatt finishing 6/8 and Askham finishing 9/12 so we could be guaranteed entertainment. A very intriguing fight and just a shame that this didn't go down on UK soil as a loss in the UFC is tough for any athlete. Askham made a comment about McGregor and Barnatt making noise to get themselves noticed within the UFC and its pretty certain that the trash talk would be ramped up if this fight was signed and Askham has made no secret to the fact that he would love to fight Barnatt. The two actually squared up against each other at BAMMA 15 (picture above) and only time will tell as to whether or not we will get to see this fight come to fruition under the Zuffa banner.
Tom "Kong" Watson (16-7 MMA 1-3 UFC) – Watson seemed a formidable opponent during his BAMMA stint but things have not been going his way since joining with the UFC. Arguably he was given a very tough test in his debut for the promotion against Brad Tavares which saw Kong suffer a split decision loss. But following a knockout win over Stanislav Nedkov the former BAMMA Middleweight champion has been overwhelmed by Thales Leites and Nick Catone. With figures of 1-3 Watson is probably on borrowed time and needs a big win in his next fight. Up steps Scott Askham who won Watsons former title at BAMMA 13. Another great Brit Vs Brit fight and we all know just how much Watson loves to throw down. The issue for me in this one would be whether or not Watson would be able to deal with the wrestling of Askham who would also have the size advantage in this one. Askham showed in his last outing that he can dominate big guys (Max Nunes) and so I think he would be able to manhandle the smaller Watson and control him for the duration of the fight. If it was a stand up war I would also favour Askham who has shown his versatility in picking up seven KO/TKO victories. For me Watson is just too small to be in the UFC Middleweight division and as much as I would love to see this fight I think it would signal the end of Watson's time with the UFC.
Urijah "Prime Time" Hall (8-4 MMA 1-2 UFC) – This one is possibly the least likely to happen especially as Hall is signed up to fight at UFC 175 against Thiago Santos but would be a very interesting fight. Hall looked very impressive against Chris Leben but in fairness Leben was certainly not on point in that fight at UFC 168. If Hall is able to get past Thiago Santos at the weekend a fight with Askham may also be a bit far removed from him as he would undoubtedly be looking for a higher level fighter. But given Hall's style he would certainly make for a good opponent for Askham. Hall has great experience having fought Weidman, Philippou and Leben but I think much like John Howard did against Hall that Askham would be able to press Hall against the cage and take him down and land some big ground and pound. Hall a protégé of the TUF series was given a lot of hype following his impressive wins on the show but has yet been able to bring those skills to the big show. This fight could definitely happen at some point in the future but in my eyes stands a more realistic chance of happening if Hall is unsuccessful at UFC 175.
Bradley "Bear" Scott (9-3 MMA 1-2 UFC) – Brad Scott would be another great fighter to match up with Scott Askham. Scott has lost two tough fights to Robert Whittaker and Claudio Silva so like Watson may be treading the thin line with the UFC. Prior to joining the UFC Scott was on a six fight win streak winning all fights within the distance. He made his way into the UFC via the TUF Smashes show and made it all the way to the finals before losing to Whittaker. For me Scott's losses in the UFC is a true testament to the level of opponents that the UFC have and a big hurdle that the UK fighters need to quickly overcome. I really like the idea of this fight and am again torn as to who I would pick to win it. Askham has the confidence of an unbeaten streak on his side but Scott is always dangerous and even more so coming off of a loss. If I had to hang my hat on a winner I would have to side with Askham because I haven't seen anything to the contrary so far to suggest that he has many holes in his game.
Hopefully you guys agree with my selections but if you have any other suggestions/comments/feedback please let me know on twitter @mmanarchy or on the WHOATV facebook page facebook.com/whoatv