It was a tall order for Ayo Daly (1-1) and Stephanie Quaile (0-1) heading all the way down to South Africa to compete in EFC so early in their careers. Travelling, big crowds, lights, TV, media and so forth, it all adds up to a daunting challenge the even the most experienced of fighters can have trouble with.
Quaile succumbed to an early first round TKO loss to fellow debutant fighter Amanda Lino (1-0). It seemed the South African came out strong and aggressive landing some powerful shots forcing the Irish fighter into a bad position.
"When I landed that first punch and I saw that it hurt, I just wanted to finish it," said Lino post-fight.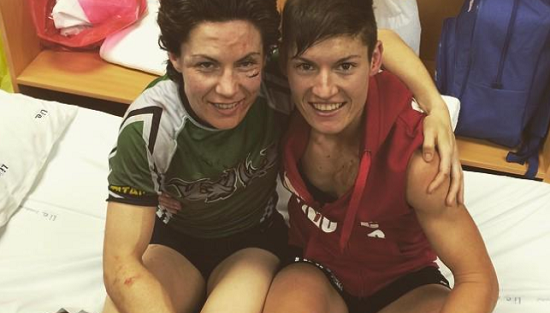 Ayo Daly did not fair too much better than his teammate as he lost by TKO himself in the first round. His opponent's, Martin van Staden (15-7), striking was too much for the 28-year-old. Daly had to deal with the onslaught of some hard leg kicks before responding with a takedown but van Staden got back up soon after. Back on their feet Daly ate another few blows before dropping forcing the ref to step in. It was the first time ever, pro or amateur, that Daly has lost.
Alan's Angle: I know hindsight is 20-20 but Daly being in there against a fighter like van Staden, who has competed against UFC calibre fighters, was the wrong idea from both a management and promotional point of view. I know he was a late replacement and this was a big opportunity for the fighter but I would never pit a fighter with 1 professional fight against a fighter with over 20.
Slow an easy would have been the way for Daly, building himself and his experience on the pro scene up before taking on these tough challenges. There is still plenty of time in his fight career to get back on track, he is only 28-years-old, and I am sure this loss and experience will only make him a better fighter. He remains one of Ireland's brightest rising stars.