So just in case you have been living under a rock the past few days, MMA fighter 'War Machine' is currently on the run after allegedly beating his pornstar girlfriend, Christy Mack, and her male friend. Mack claimed he put her through a series of horrendous events and threatened to rape and kill her before she managed to get away.
With War Machine on the run and the story gaining a lot of publicity in steps Duane Chapman aka Dog The Bounty Hunter. He asks the MMA fighter to turn himself in within 24 hours or else he will track him down. Well that 24 hour window expired and War Machine did not turn himself in. Apparently Dog is now tracking him down and wants to fight War Machine one on one after the TV star tweeted the following: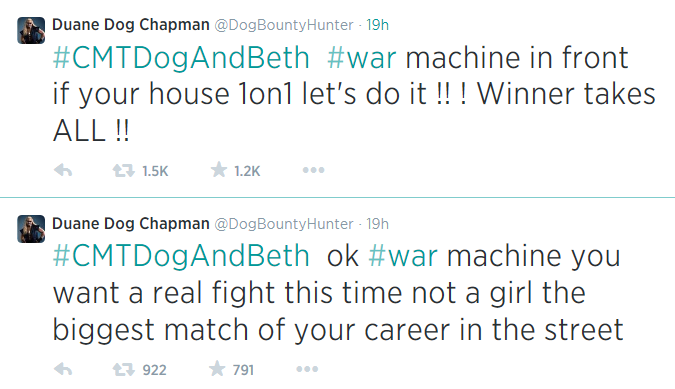 So how do the pair match-up? Well I take a look:
Name: Duane Chapman aka Dog The Bounty Hunter
Age: 61
Height: 5ft 10in
Prison Stint(s):
Sentenced to 5 years, served 18 months for first degree murder in 1976.
Professional Record: 0-0
Notes: Bounty Hunter since 1988, has an awesome mullet.
Name: War Machine aka Jon Koppenhaver
Age: 32
Height: 5ft 10in
Prison Stint(s):
Three years probation for striking and choking a man unconscious in Las Vegas in 2007.
Sentenced to one year in prison for his part in a bar fight in 2010, served 12 months.
Sentenced to another year in prison for preceding events in 2012, served 9 months.
Professional Record: 14-5
Notes: Starred in 12 porn movies, has many silly tattoo's including 'MACK' across his neck.
Alan's Angle: The very first tweet Dog made about War Machine turning himself in I could stomach. It shined some light on what he did and brought some media attention to the situation which in turn might help spread awareness about domestic abuse etc. But his continuation of tweets and updates is almost sickening and an obvious PR stunt taking advantage of an awful situation.
Please follow #WHOATV on Facebook and Twitter for regular MMA updates, videos discussions and competitions.