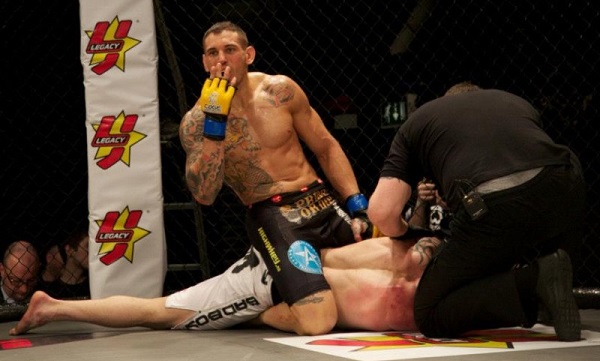 Press Release: Two of the top welterweights on the Cage Warriors Fighting Championship roster will collide when the promotion makes its return to Bahrain later this year.
Khalifa Sports City will play host to the meeting of Bruno Carvalho and former CWFC welterweight champion Gael Grimaud (pictured) on Friday, October 25, at CWFC Fight Night 9, which will be the promotion's 11th event of 2013.
Carvalho (15-6) will be aiming for his second successive CWFC win, having overcome Steve Dinsdale – who was a late replacement for the injured Mohsen Bahari – at Cage Warriors 52 in March.
That victory saw the 31-year-old BJJ black belt rebound from a narrow decision loss to current CWFC welterweight title-holder Cathal Pendred last October at Cage Warriors 49 in Cardiff.
A Brazilian currently based in Sweden, Carvalho holds victories over former KSW middleweight champion Vitor Nobrega, Dream veteran Tatsuya Mizuno, former Pride middleweight Jean-Francois Lenogue and The Ultimate Fighter 11 contestant Kyacey Uscola.
Grimaud (17-6) also returns to Cage Warriors action for the first time since last March's CWFC 52, when he relinquished the welterweight title via a unanimous decision defeat to Cathal Pendred.
The 33-year-old Frenchman was victorious when Cage Warriors last visited Bahrain, submitting Jesse Taylor to retain the belt in the third round of the CWFC Fight Night 6 headliner in May of last year.
Grimaud, who has 13 stoppage wins – 11 by submission – on his record, was crowned CWFC welterweight champion in September 2011 thanks to a second-round TKO triumph against Arni Isaksson at CWFC Fight Night 2 in Jordan.
With many more fights still to be announced, keep track of us on Facebook and Twitter for the latest CWFC Fight Night 9 news and updates.