Last week we heard the announcement that Invicta had snapped up the Southern Hemisphere's most exciting female free agent in Jessy Rose Clark aka Jessy Jess (5-1).
2014 was a breakout year for the Aussie star having won all three of her fights and being the focus point of a number of America's AXS TV highlights thanks to her ferocious fighting style.
I spoke with the bantamweight recently and she displayed her excitement in signing with Invicta stating that signing with the promotion was a goal of hers when she first started.
"It feels AMAZING [to sign with Invicta]," she said. "I have been hoping for Invicta since I started fighting so to finally have that contract means a lot! My manager first started talking to them about 6 months ago. I didn't really think about it too much because I had fights to prepare for and that is always the most important thing to focus on. But now that I have nothing booked, I am just incredibly excited."
Invicta's ties with the UFC has grown tight in recent years. Their events are now streamed through the UFC's online network Fight Pass and the current season of TUF essentially moved and entire division of strawweights from Invicta into the UFC. With such strong ties between the two promotions fighters heading into Invicta must now be thinking the UFC is within touching distance and Jess is no exception.
"Any fighter who tells you that UFC isn't their goal, is lying," she said. "Why wouldn't you want to perform on the largest platform in the world?! Although right now I have to say I am spectacularly excited about Invicta so I am not even thinking about UFC until we get to that bridge."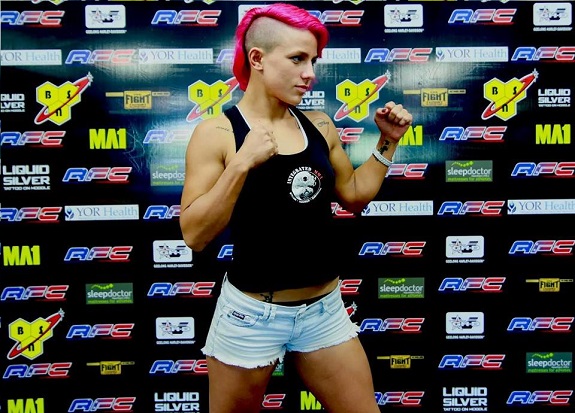 In talking about her goals in MMA she stated that she has two main goals in her career. One is "fighting in the UFC" and the other is to "go further than any other Aussie female has before" both goals she agreed are "not going to be an easy task."
Jess also gave an indication as to when she might be making her debut and stated her excitement at fighting anyone of the many bantamweights on the roaster.
"I have been told early 2015 and I have no idea who it would be against. There are some pretty talented and exciting bantamweights in their ranks so I will be happy with whoever they put in front of me."
But one thing she wants the whole division to know is that "Aussies are tough :)"
You can follow Jess on Twitter @jessy_jessmma or pop over and 'like' her Facebook Page.
(all photo's via Jess' Facebook Page)